Solutions Designed for a Seamless Drive Thru Experience
Global brands rely on our industry-leading digital hardware, data-driven CMS, and end-to-end services to deliver engaging drive thru experiences and an impactful ROI.
Pre-Sell Display
Positioned before the order point, pre-sell displays deliver targeted marketing and promotions to customers entering the drive thru.
Order Confirmation Unit
Outdoor order-taking units can incorporate cameras, scanners, Bluetooth, and other interactive technologies to better communicate with customers.
Outdoor Digital Menu Boards
Our outdoor digital signage enables dynamic menu content, helps optimise the customer experience, and drives ROI for your brand.
Learn more
Order Confirmation Screen
As the final point of interaction before payment, these dynamic solutions promote customer confidence and order accuracy through visual confirmation of each order.
Crew Facing Screen
Driving a stronger connection between customers and restaurant crews, this solution lives inside the order-taking window and mirrors menu board content to create clarity and opportunities for upsell.
Software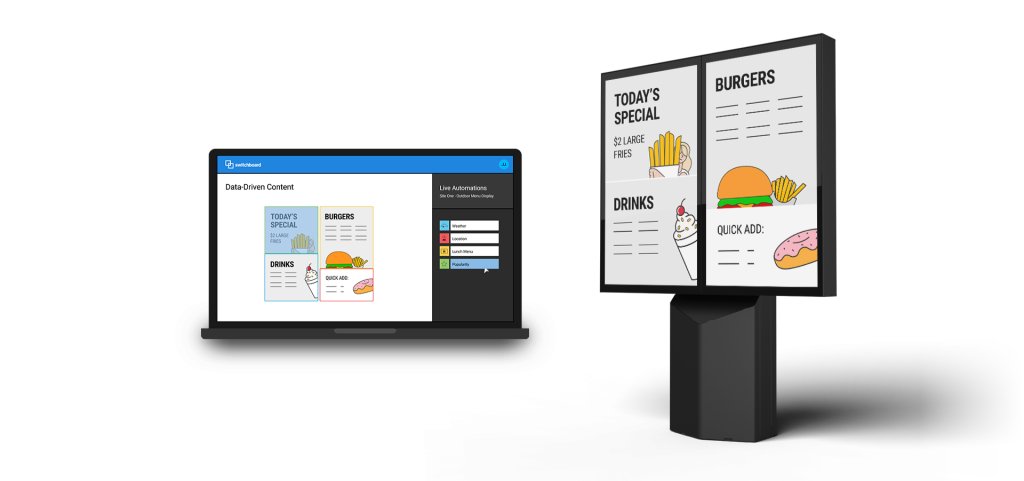 Our Switchboard™ CMS Brings Your Drive Thru Experience to Life
Our proprietary Switchboard™ CMS provides a single, centralised solution for managing messaging across all drive thru hardware touchpoints, while our advanced analytics capabilities and integrations drive a seamless and connected customer experience.
Our Services
Content Development & Management
Case Studies
Digital Signage Improves Order Accuracy By 15% for McDonald's ANZ
McDonald's
Hungry Jack's Uses Digital Signage to Connect the Customer Experience at +300 Locations
Hungry Jack's